Mobile users, view in landscape orientation for best user experience.
On May 2nd, 1914, a unique issue of the Grand Rapids Press hit newsstands. The paper's regular masthead had been replaced with a procession of classically garbed women, each representing a state with full women's suffrage; Michigan, in chains, trailed behind—a stark reminder that suffragists had not yet won the state. But more than the masthead had changed. Women's suffrage had taken over the entire issue, with 22 pages out of 30 dedicated to the cause. Grand Rapids suffragists had taken over the Press.
The Suffrage Edition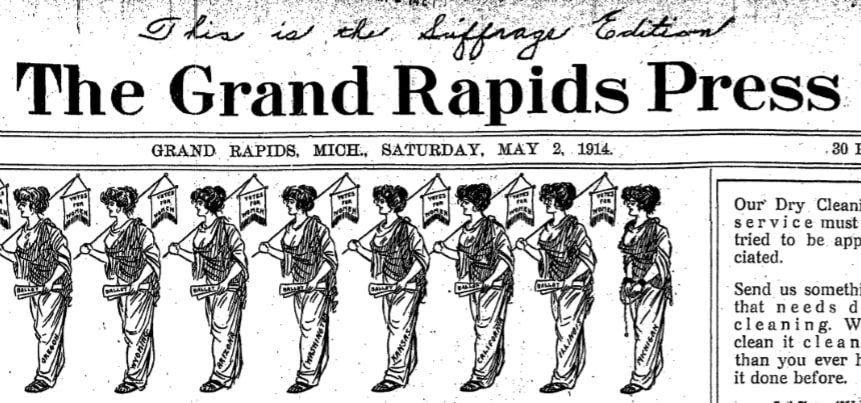 Suffrage Edition Masthead, Grand Rapids Press, May 2, 1914
Why did the Grand Rapids Press run a suffrage-themed edition? The answer dates back to January 1914, when New Jersey suffragist Alice Paul and her Congressional Union for Woman Suffrage put out a call for nationwide demonstrations to be held on May 2. The choice to plan events throughout the nation was a strategic one; politicians opposed to suffrage often justified their voting records with claims that women did not want the vote. If the Congressional Union could spur suffrage activity in every city and state in the country, how could any representative deny popular support for the cause?
A National Effort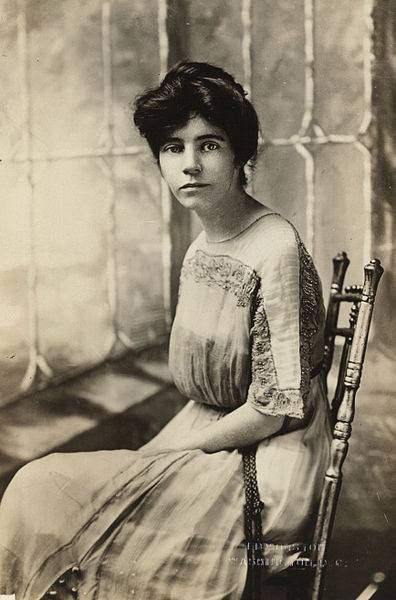 Alice Paul, Library of Congress, 1915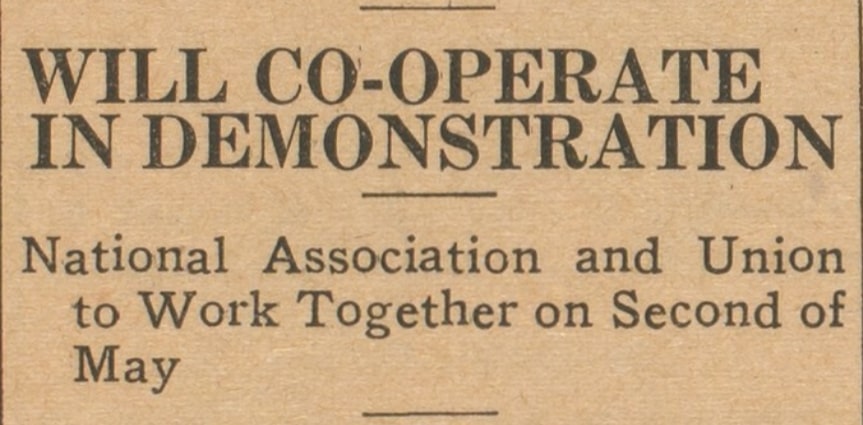 But the Congressional Union (CU) had a problem. Alice Paul and Lucy Burns had founded CU after falling out with the National American Woman Suffrage Association (NAWSA) in 1913. The former pushed for a militant federal strategy while NAWSA favored traditional methods and a state-by-state approach. But in leaving NAWSA, Paul and Burns had also left behind NAWSA's extensive membership rolls. By 1914, CU had 4,500 members, while NAWSA would amass over two million by 1917. In order to mount a national demonstration, CU needed national reach. That February, CU and NAWSA struck a deal: they would work together to ensure May 2 suffrage demonstrations in every state.
Working Together
"Will Co-operate in Demonstration," Woman's Journal, February 21, 1914
This agreement was critical to Grand Rapids's participation in the May 2 demonstrations. Some Michigan suffragists blamed Alice Paul and her cohort for the failure of their 1913 statewide women's suffrage referendum. The vote had taken place just one month after Burns and Paul's massive 1913 suffrage parade in Washington, D.C. Further, the Grand Rapids Equal Franchise Club (founded in 1910) was an auxiliary of NAWSA through its membership in the Michigan Equal Suffrage Association (MESA). Only after they had NAWSA's seal of approval did Grand Rapids suffragists plan their contributions to this ambitious nationwide effort.
NAWSA's Seal of Approval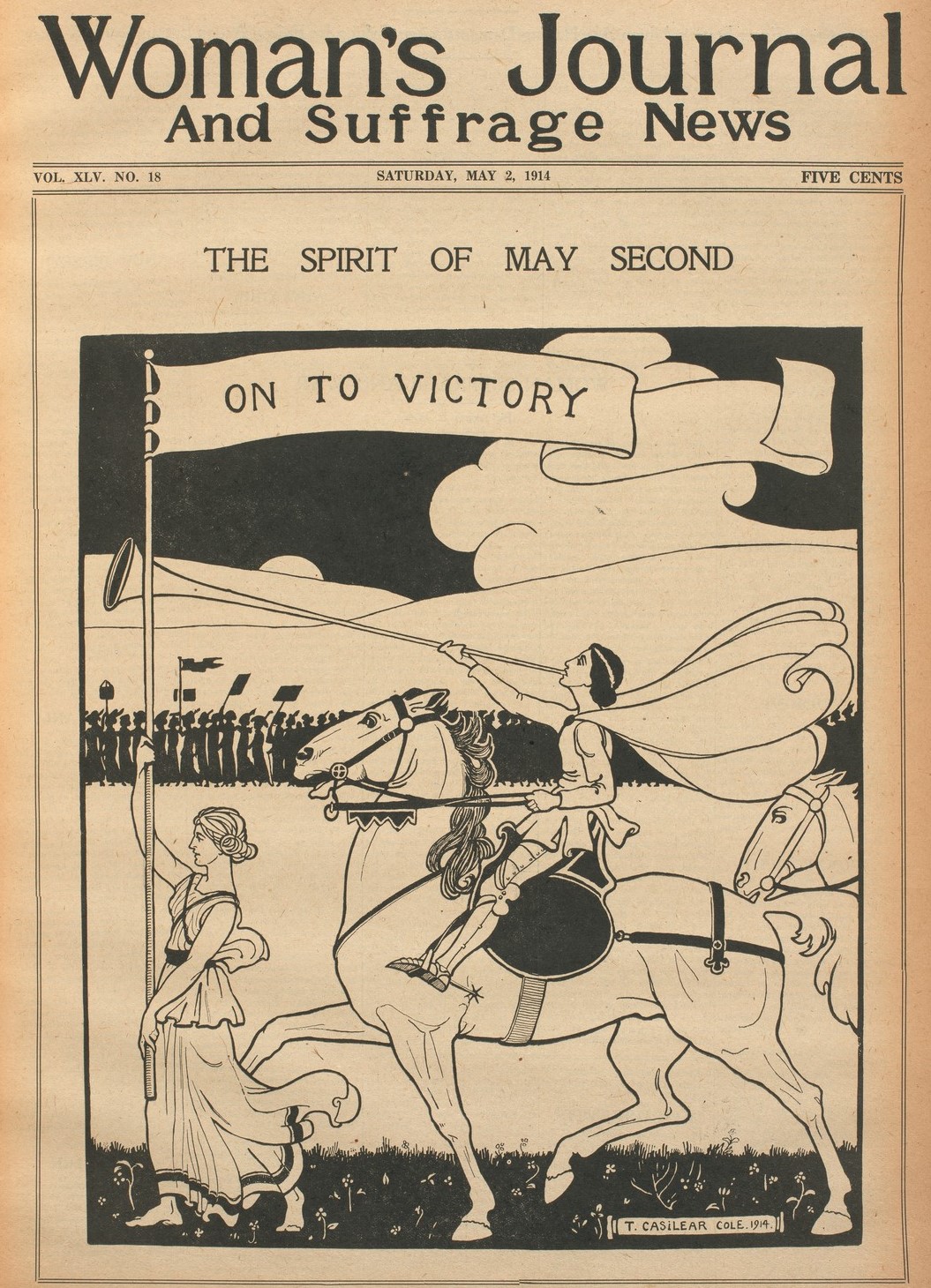 Cover, Woman's Journal, May 2, 1914
The suffrage edition of the Grand Rapids Press was part of a broader campaign by suffragists on May 2. Following NAWSA's suggestion, the Equal Franchise Club staged a mass meeting at Fulton Street Park. Reports of the event convey a sense of festive celebration. "Votes for Women!" banners were unfurled throughout the city, and a crowd gathered at Fulton Street Park to hear pro-suffrage speakers and to listen to the Equal Franchise Chorus. It all led up to the moment when Michigan Equal Suffrage Association vice president and local suffrage leader Clara Comstock Russell, in an address directed to Congress, demanded women's suffrage on behalf of all the assembled. With events like this happening throughout the country, popular support for suffrage became more difficult to deny.
Votes for Women!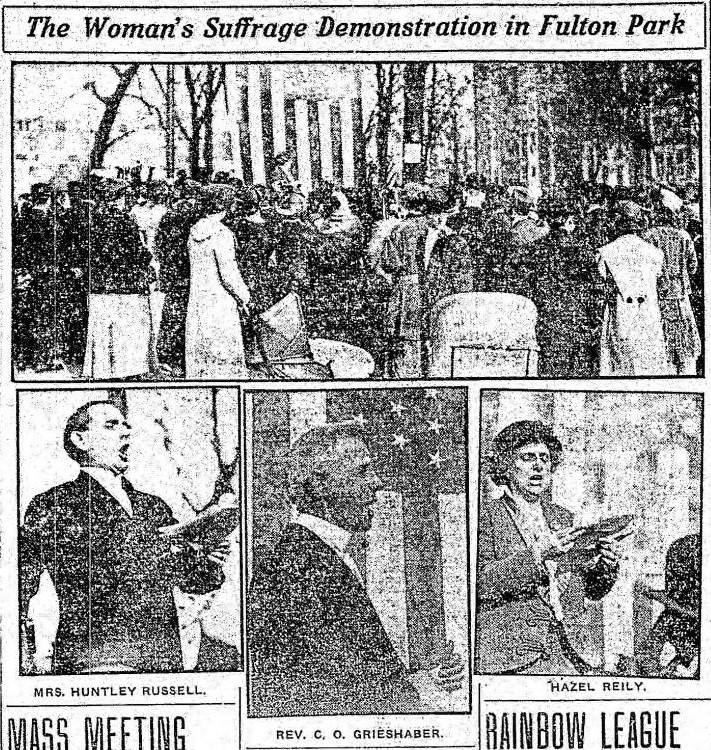 "Mass Meeting of Suffragists a Big Success," Grand Rapids Herald, May 3, 1914
The mass meeting at Fulton Street Park was an impressive spectacle, but the suffrage edition of the Grand Rapids Press had a readership of over 70,000 and reached even more potential suffrage referendum voters. The editors and writers, all members of the Grand Rapids Equal Franchise Club, did not fill their edition exclusively with straightforward reports on the suffrage movement's progress but looked for the suffrage angle within their respective sections, highlighting women in fields as varied as business, sports, and theater. In this way, they could argue on behalf of women's suffrage and demonstrate the many ways that women, even without the vote, contributed to society.
Finding the Suffrage Angle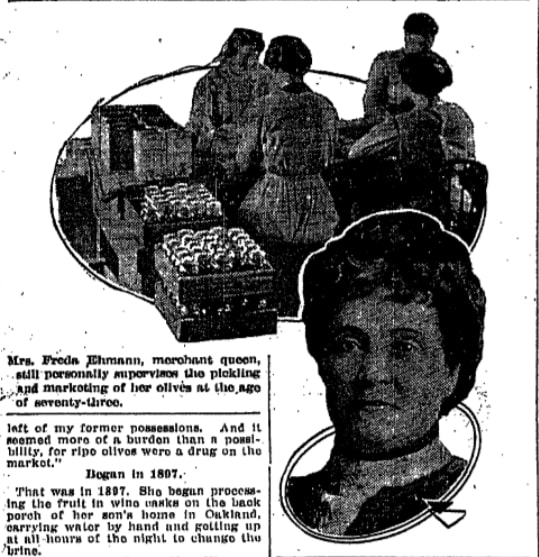 "California Woman Makes an Industry," Grand Rapids Press, May 2, 1914
The first page of the suffrage edition conveyed this idea very clearly. Situated under an article on the Fulton Street Park meeting is a cartoon illustrating the rise of a woman's world. A suffragist, standing atop the old, holds forth the new—the suffrage—world. While this more equal society had not yet been won, the cartoon reflected a strong feeling among suffragists that victory was just on the horizon.
Her World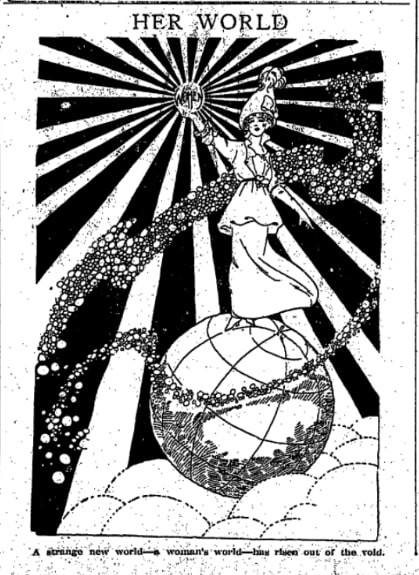 "Her World," Grand Rapids Press, May 2, 1914
As state editor for the suffrage edition, Michigan Equal Suffrage Association treasurer and Grand Rapids suffragist Alde Louise Tuck Blake highlighted National Suffrage Day celebrations throughout the state. Benton Harbor suffragists were hosting a suffrage luncheon, Marquette women had recently founded a suffrage organization, and Pontiac suffragists were busy selling newspapers and pencils to raise funds for the cause.
Alde Blake, State Editor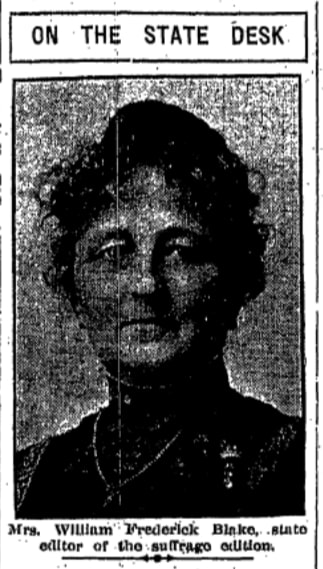 "On the State Desk," Grand Rapids Press, May 2, 1914
The fight for women's suffrage, waged mostly on a state-by-state basis until the mid-1910s, was won piece by piece. In Michigan, the fight for the vote yielded equal suffrage for women in school board elections and bond issues. This national map from the suffrage edition illustrates how gradual the progress towards full suffrage was. Although they were initially few and far between, the number of state victories grew over time and were critical to the passage and ratification of the 19th Amendment. State-level victories offered representatives voting on national women's suffrage clear proof of popular support for the cause.
The Suffrage Map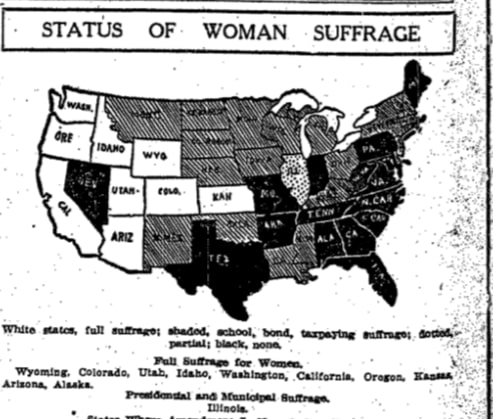 "Status of Woman Suffrage," Grand Rapids Press, May 2, 1914
Mary E. Remington, the Grand Rapids Press society editor, headed up the sports page. She commissioned an article on women and golf from local suffragist and champion golfer Madge Miller and celebrated Barbara Blake, daughter of Grand Rapid suffragist and Michigan Equal Suffrage Association treasurer Alde Louise Tuck Blake, for her award-winning basketball playing at Oberlin College.
Mary E. Remington, Sports Editor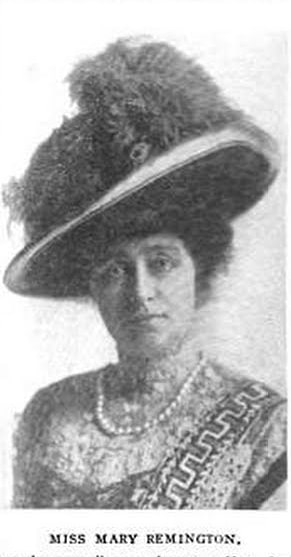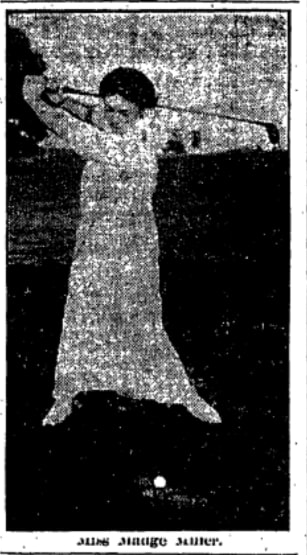 L to R: "Miss Madge Miller," Grand Rapids Press, May 2, 1914; "Miss Mary Remington," Fourth Estate, May 21, 1914
Grand Rapids suffragists came up with a humorously effective way to demonstrate where prominent local men fell on the women's suffrage issue. Taking the phrase "on the fence" literally, they placed influential Grand Rapids men over, on, and behind a "Votes for Women" fence. Robert E. Shanahan, husband of suffrage edition Editor in Chief Mary Shanahan, stands squarely over the fence. Equal suffrage was a shared cause in their marriage and in the marriages of many local suffragists. Some husbands even went so far as to start their own Michigan Men's League for Woman Suffrage.
On the Fence?

"Some Prominent Men You Know and Their Position on Suffrage Question," Grand Rapids Press, May 2, 1914
In possibly the suffrage edition's most interesting feature, future State Senator Eva McCall Hamilton highlighted women's influence in the automobile industry, arguing that their higher expectations had transformed how cars were made. Even though women could—she pointed out—hand crank to start a motor, shift gears manually, and operate a clutch, most women valued the convenience of improvements like the self-starting motor. She ended with a word on women's market power, suggesting that, although most husbands held formal purchasing power, wives often had the final say on which car they actually bought.
Women's Buying Power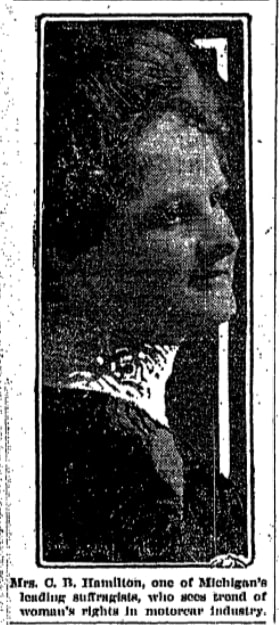 "Suffrage Influence in Motorcar World," Grand Rapids Press, May 2, 1914
Making its way into thousands of Grand Rapids homes, the suffrage edition of the Grand Rapids Press demonstrated the strength of the local suffrage movement and the progress of women in American society. 49 of the edition's over 60 photographs depict women in roles as various as editor, author, athlete, actress, singer, politician, reformer, suffragist, leader, mother, housewife, architect, business woman, probation officer, teacher, student, and lawyer. The suffrage edition offered proof, in print and paper, that women had claimed their place in public life. They would not rest until they could also claim their rights as fully enfranchised citizens.
Proof in Print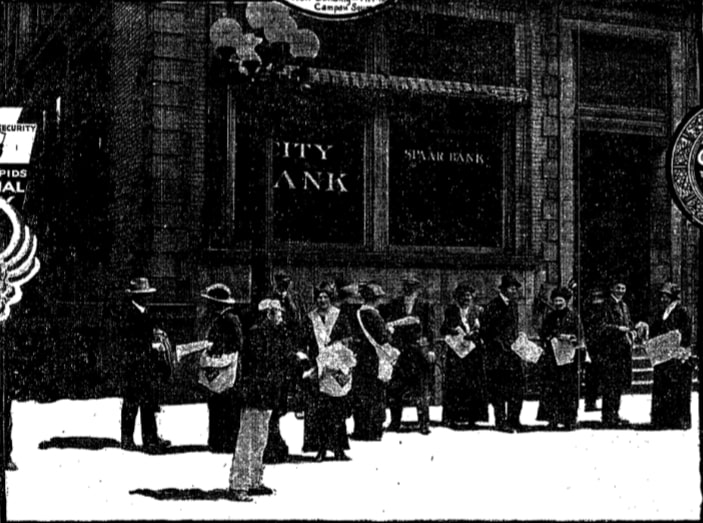 Suffragists passing out the suffrage edition, Grand Rapids Press, May 2, 1914
Bibliography
Suffrage Edition. Grand Rapids Press. May 2, 1914.
"The Greatest Suffrage Day." The Suffragist. May 9. 1914.
"Will Co-operate in Demonstration." Woman's Journal. February 21, 1914.
"Committees to Make Plans." Grand Rapids Herald. March 21, 1914.
"Mass Meeting of Suffragists a Big Success."Grand Rapids Herald. May 3, 1914.
"The Grand Rapids Press." The Fourth Estate. April 17, 1915.