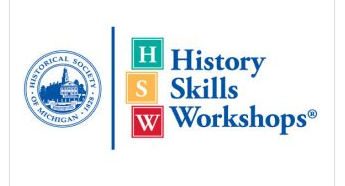 Join The Historical Society of Michigan for two different workshops on Friday, March 5th.
"Communicating the Tale: Writing Your History Article"
From 9am to 12pm Roger Gilles of Grand Valley State University will cover creating an article—from finding the right venue and sending a query letter to submitting the finished article and working with editors. The speaker will also discuss establishing a clear focus and structure, using headings effectively, citing sources smoothly and accurately, and achieving a professional level of style and polish.
"Sharing the Tale: Publishing Your History Book"
From 1pm – 4pm Catherine Cocks of Michigan State University will take you through all the steps of creating a book, including defining the scope, researching and writing, creating financial goals, gathering illustrations, defining the market, printing, and marketing the volume to the public.