WWI Woman's Committee of the Council of National Defense Registration Card Collections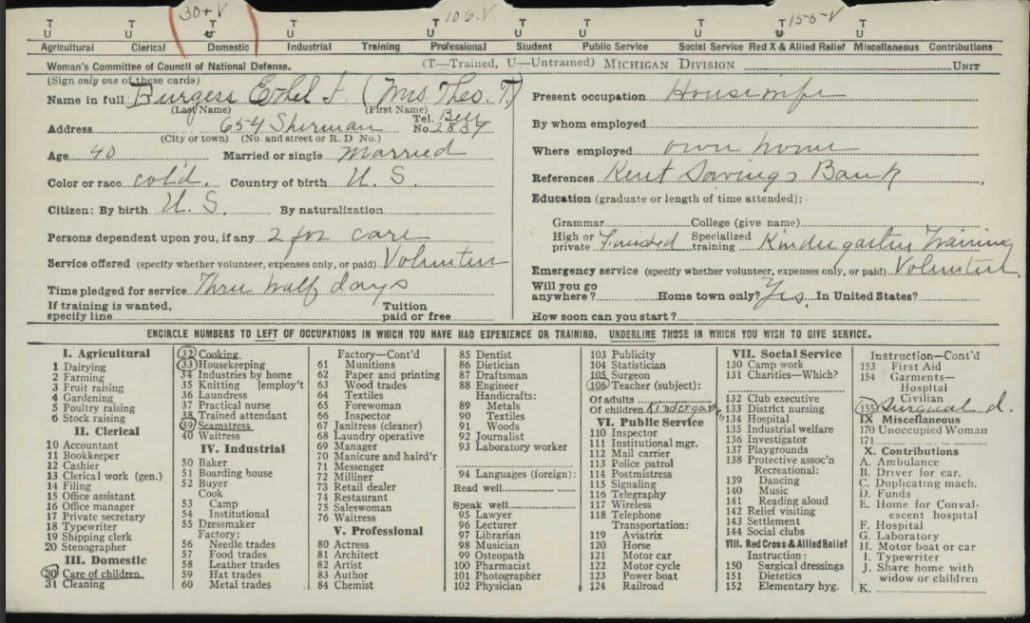 Centennial acknowledgements of World War I have ignored American women citizens, although upon U.S. entry in April 1917 they mobilized 17,000 "woman's" committees as a home defense and registered over 4,000,000 women for wartime contributions
Local and academic historians are only beginning to address American women as citizens during World War I. In 1917 American women were granted a federal mandate by the Council of National Defense when the wartime government established the CND's Woman's Committee, and 17,000 local committees sprang up immediately. Invited in because of military needs, the nation's women made contributions ranging far beyond specific war needs and their traditional gender roles. For more on Women during the Great War, see The Second Line of Defense. 

One hundred years ago, in late April to early May of 1918, 23,000 Grand Rapids women registered for war work with 1000 registrars. Organized by the Grand Rapids unit of the Woman's Committee of the Council of National Defense, their data is today available in a fully searchable library database, the only one of its kind.

Please help us honor their four million sisters nationwide by finding additional WWI WCND Registration Cards! 
Known WWI Woman's Committe of the Council of National Defense Registration Card Collections: