A big thank you to all of those who came out to honor and celebrate the local women we featured for this year's Women's Equality Day! Thank you to those who posted their visits on our Facebook page and to those who visited and did not post – we still noticed your presence and are grateful for that.
This year the GGRWHC featured four women in two different cemeteries to remember and continue their legacy of suffrage efforts and equal rights activism. Those who were able to participate visited one or more of the following grave sites: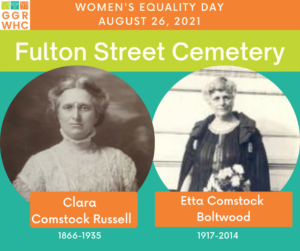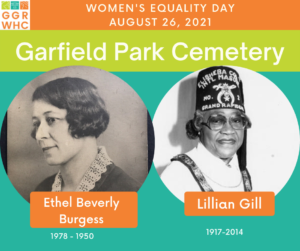 For more information on Clara Comstock Russell click here and to learn more about Etta Comstock Boltwood, click here! For a synopsis of our oral history interview of Lillian Gill, click here and to read more about the life of Ethel Beverly Burgess, click here!
Women's Equality Day and the GGRWHC were featured in local press coverage throughout Grand Rapids! On August 25th, Susan Coombes, a board member of the GGRWHC appeared on Shelley Irwin's WGVU Morning Show (88.5/95.3 FM) to talk about the GGRWHC's plans to celebrate local women on August 26th through our "Here Lies a Suffragist" self-guided tours as well as the four women we featured this year. If you were not able to make it out on the 26th, fear not! The gravesites of local suffragists and activists can be visited on any day of the year; to learn more about how to find them, visit our self guided tours page here. Some of the pictures shared on our Facebook page of GGRWHC members celebrating Women's Equality Day were also shared in a Fox 17 piece on the reflection and commemoration of the anniversary of the passage of the 19th amendment on Women's Equality Day. Watch this short video here to learn more and to see if you can recognize the GGRWHC members! To see the WZZM' 13 On Your Side feature on the Comstock Sisters, click here.
For those who were unable to participate in this year's event, scroll on to see more of the celebration and remembrance at the Fulton Street and Garfield Park Cemeteries.
We hope to see you on the next Women's Equality Day!
https://www.ggrwhc.org/wp-content/uploads/2021/08/Copy-of-2021-Womens-Equality-Day-Banner-thank-you.png
315
851
GGRWHC
/wp-content/uploads/2017/11/logo_v4.png
GGRWHC
2021-08-27 16:07:38
2021-08-27 17:33:37
Thank you for celebrating Women's Equality Day with GGRWHC!