Reading into Suffrage History
Virtual Book Discussion
Wednesday, October 21st, 7:00 – 8:30 pm
Death in Ten Minutes by Fern Riddell
Free & open to the public
Co-sponsored by the Grand Rapids Public Library &
the Greater Grand Rapids Women's History Council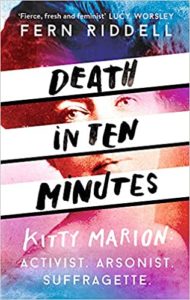 Death in Ten Minutes is a biography of Kitty Marion, who became one of the UK's most militant suffragettes. The book illustrates the British campaign using Kitty's life, and it doesn't end in 1918 when some British women got the vote. In fact, many US suffragists and UK suffragettes went on to use their skills for other causes and social movements. Kitty was no exception. More here.
We are delighted that two specialists in British women's history will provide context and help us to make connections between the US/UK sister movements. Former GVSU administrator and history professor Gretchen Galbraith will join us from her new home at SUNY Potsdam in New York, where she is dean of the School of Arts & Sciences; and Pamela Walker, Professor of History at Carleton University, will join from her home in Canada! They will help us understand how UK and US governmental systems are different, and why that made a difference; how political parties were involved differently in the two countries; how and why both movements split apart along the way; and when history writing and language can be controversial, and deserve discussion in itself!
Prior to the shut-down, we had planned to follow our big August 26th celebration with opportunities to talk about books on suffrage history. Now the partnering groups are taking it virtual! Colleen Alles, representing the Grand Rapids Public Library, will join Gretchen Galbraith, Pamela Walker, and a host for the GGRWHC. They will sketch out questions to start, but will try to keep the structure loose and also link content to the local history of Grand Rapids' own suffragists.
Please join us even if you couldn't finish the books. You will be inspired to keep reading! Anyone interested is welcome, but the virtual Zoom discussion will require an RSVP through EventBrite.
Find your own books or check one out from the Grand Rapids Public Library! 
As soon as possible, use this GRPL link to place a hold. You might need to wait for a book to become available. And when you place a book on hold, it will be available for pickup at GRPL through GRPL to Go.