Reading into Suffrage History
Virtual Book Discussion
Wednesday, November 18th, 7:00 – 8:30 pm
All Bound Up Together by Martha S. Jones
Free & open to the public
Co-sponsored by the Grand Rapids Public Library &
the Greater Grand Rapids Women's History Council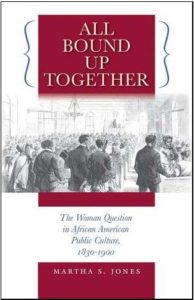 In All Bound Up Together, Martha S. Jones explores the roles played by 19th-century black women in their communities' social movements during the run-up to the 20th century. Covering three generations of black women activists, she demonstrates that the "woman question" was at the core of movements against slavery and for civil rights.
Unlike white women activists, who usually created institutions separate from men, black women often organized within already existing churches, political organizations, mutual aid societies, and schools. Jones illustrates how women helped to shape the course of black public culture. More here.
Prior to the shut-down, we had planned to follow our big August 26th celebration with opportunities to talk about books on suffrage history. Now the partnering groups are taking it virtual! Colleen Alles will represent the Grand Rapids Public Library, joined by Sophia Brewer for the GGRWHC. They will sketch out questions to start, but will try to keep the structure loose and also link content to the local history of Grand Rapids' own suffragists.
Please join us even if you couldn't finish the books. You will be inspired to keep reading! Anyone interested is welcome, but the virtual Zoom discussion will require an RSVP through EventBrite.
Find your own books or check one out from the Grand Rapids Public Library! 
As soon as possible, use this GRPL link to place a hold. You might need to wait for a book to become available. And when you place a book on hold, it will be available for pickup at GRPL through GRPL to Go.