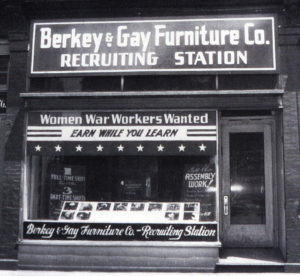 FINDING THE LOST REGION
Wednesday, June 6, 2018
Fourth Annual Midwestern History Conference
Sponsored by the Midwestern History Association and
the Hauenstein Center at Grand Valley State University
For the fourth consecutive year the MHA will meet in Grand Rapids, giving locals the opportunity to stay on the cutting edge of the reviving field of Midwestern studies. This assemblage of scholars—including those from the Greater Grand Rapids Women's History Council—is dedicated to re-energizing study of the role of the Midwest in American history. Attend all or just part of the day-long offerings—but don't miss the GGRWHC's presentation at 7:00 pm! Scroll down for more and stay tuned at www.ggrwhc.org!
Courtesy of GVSU's Hauenstein Center, admission will be open to the public and free, including a complimentary lunch—if you RSVP! Also find the day's complete schedule on the following: https://www.gvsu.edu/hc/module-events-view.htm?siteModuleId=2C5125A7-B7A9-5FEB-4D1655B86DF0EF04&eventId=20AB1F05-9F9A-DB93-67F2E838268D976A
** *** ** *** ** *** **
The Greater Grand Rapids Women's History Council
at the MHA Conference
GVSU DeVos Campus Downtown
Wednesday, June 6th, 7:00 pm
When in 1917 the American wartime government established the Woman's Committee of the Council of National Defense, 17,000 local organizations sprang up immediately. Invited in because of military needs, the nation's women citizens made contributions ranging far beyond specific war needs and their traditional gender roles.
Midwestern Women and the Children's Programs of the WWI Council of National Defense will be the second in GGRWHC's three-year project illustrating the little-credited but incredibly important American women's initiatives to create a home defense by guaranteeing healthy food sources, raising healthy children, and ensuring the health of women in the industrial work force. This year's focus will be on how women's programs benefited children, ensuring the future health of the nation in the wake of a public health disaster. When one third of American male draftees failed their physicals, the better care of American children became an important aspect of an ongoing home defense. Integrating local histories into the national story, Melissa Fox, Jayson Otto, and Sue Caldwell will report on a variety of 1918 "Children's Year" initiatives in urban Grand Rapids, Michigan, and rural Jasper County, Indiana.
Riding the Rails on the Children's Special: Weighing and Measuring Babies along Michigan's Interurban Lines, Melissa Fox, Greater Grand Rapids Women's History Council
Children's Recreation as a Defense Measure: The Case of Grand Rapids, Michigan, Jayson Otto, Aquinas College
Schooling for War in Rural WWI Jasper County, Indiana, Sue Caldwell, Director-At-Large of the Indiana Genealogical Society & Jasper County Genealogist for the IGS
/wp-content/uploads/2017/11/logo_v4.png
0
0
GGRWHC
/wp-content/uploads/2017/11/logo_v4.png
GGRWHC
2018-05-21 12:44:43
2018-05-21 12:44:44
GGRWHC at the Midwestern History Association Conference