Join us on Wednesday, March 27 at 5pm for our Reception & Annual meeting! Enjoy a glass of wine, light appetizers, and catching up with friends! Then, settle in to hear our year-in-review, elect new directors (read more about each of them below), and learn about and celebrate the work behind the now-digitized Kent County collection of WWI Council of National Defense women's registration cards. Let us know you plan to come! Click here to RSVP! 
Here are 2019 Slate of Candidates for the Board of Directors: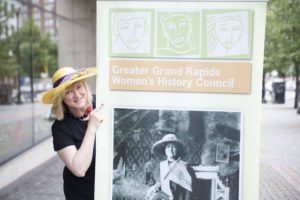 Susan Coombes
Grand Rapids native Susan Johnson Coombes majored in Communications at Michigan State University before working in local radio and moving abroad to spend time in Europe, Africa and Asia. While resident in Nigeria, she was a member, then president, of the International Women's Association. During two years in the Netherlands, she worked as an information specialist on the Eastern Scheld Works (a storm surge barrier on an artificial island); and her fourteen years in Asia were divided between Singapore and Hong Kong, where she worked in the international public relations/communications industry. Back in the US, Coombes lived for thirteen years near Seattle and served two terms as an Arts Commissioner for the of City of Issaquah. Currently, she is retail manager for the Grand Rapids Art Museum. Coombes was first elected to the GGRWHS board in 2013 and served for four years in communications and special projects.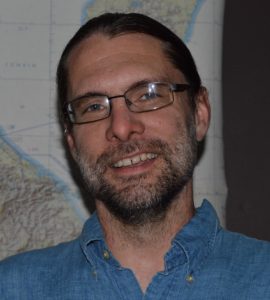 Jayson Otto
Jayson Otto is a professor of anthropology and food studies at Aquinas College and Grand Valley State University. He became active in local history with the Neighborhood Improvement Committee of the Midtown Neighborhood Association and while managing the Fulton Street Farmers Markets for three seasons between 2005 and 2007. His research continued during graduate work on Ecological Food and Farming Systems at Michigan State University. There, Otto dug deeper into the origins of the Fulton Street Farmers Market, and he uncovered the prominent roles played by Progressive Era women in Grand Rapids food politics. Jayson has represented the Greater Grand Rapids Women's History Council with programming in women's history, farmers markets, and urban farming at the national Agricultural History Society, the Midwestern History Association, GVSU's Great Lakes History Conference, GRPL's History Detectives and at the Gerald R. Ford Presidential Museum. Some of his research on Grand Rapids women, farmers markets, and school gardens can be read in a chapter of the book Cities of Farmers: Problems, Possibilities, and Processes of Producing Food in Cities from the University of Iowa Press. Jayson hopes to extend his research on the civic work of Progressive Era women around food production to other cities and towns across the state.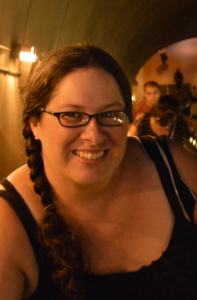 Kelly Otto
Kelly Otto is a genealogical researcher who, between 2001 and 2015, was employed as  executive director of Grand Rapids's Midtown Neighborhood Association. During her fourteen years working alongside neighbors and local businesses promoting community engagement, she emphasized their investment in the neighborhood's local history. She advocated for the creation of two historic preservation study groups to investigate the potential designation of historic districts within the Ashby Row and Brikyaat areas of Midtown. With for-profit and non-profit stakeholders she worked to ensure a historically sensitive renovation of Houseman Field. To  encourage Midtown residents to investigate their own "house histories," she took residents to the Grand Rapids Public Library and Grand Rapids City Archive to teach them how to utilize resources available there. We endorse Otto's belief in "building connections between the past to better understand the present and how we arrived here."
/wp-content/uploads/2017/11/logo_v4.png
0
0
GGRWHC
/wp-content/uploads/2017/11/logo_v4.png
GGRWHC
2019-03-18 19:52:30
2019-03-19 15:02:43
GGRWHC Reception & the 2019 Candidates for the Board of Directors