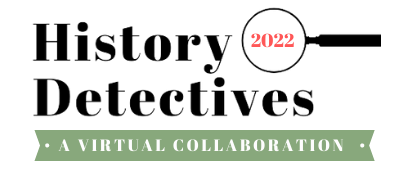 History Detectives 2022 will be launching their new Youtube Channel on January 22, 2022!
Eight pre-recorded programs ranging from the shores of Lake Michigan through Grand Rapids to the statewide library in Lansing! You will be able to view these programs starting January 22, 2022 at whatever time is convenient to you!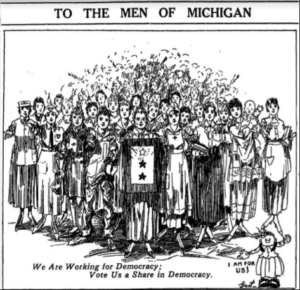 Members of the GGRWHC will be presenting Unearthing an Army of Women: Diversity in Our WWI Women's Registration Cards. Join Ruth Stevens, Sophia Brewer, Andrea Riley Mukavetz, and Sue Thoms to learn about the historical nuggets that can be found in an astonishing new resource. Collected in 1918, Kent County's 23,000 WWI women's registration cards are available on a searchable database, ready to reveal the diversity of women volunteers who crossed class, religious, racial, and ethnic boundaries to create, inadvertently, a mine of treasures not limited to Grand Rapids. Sociological, historical, and geographic veins remain largely unexplored. The presenters will highlight individuals and clusters of African American, Native American, and working women to illustrate what the cards can provide state- and nation-wide researchers; as well as fascinating tips on searching: "journalist" was not used, but "Indian" was. Tune in to explore the skills, held or desired, of a forgotten front line.
This is just one of 8 programs that will be featured at the launch of the YouTube channel, you can also look forward to the following programs: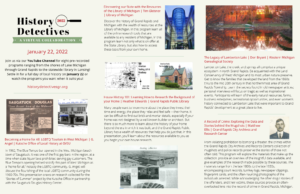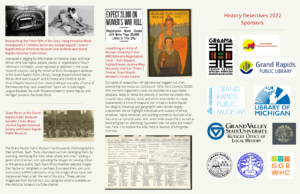 House History 101: Learning how to research the background of your home
Presenter: Heather Edwards
Sponsor: Grand Rapids Public Library
A Record of Crime: Exploring the Data and Stories behind the Mugshots
Presenter: Matthew Ellis
Sponsor: Grand Rapids City Archives and Research Center
Becoming a Home for All: LGBTQ Tourism in West Michigan
Presenter: G. Angel, PhD Student in Indiana University Bloomington's Gender Studies Department
Sponsor: Kutsche Office of Local History
Team Photo at the Grand Rapids Public Museum Sampler
Presenter: Gina Bivins for Team Photo
Sponsors: Grand Rapids Historical Society and Grand Rapids Public Museum
Researching the Other Side of the Story Using Historical Black Newspapers
Presenters: Christine Byron and George Bayard
Sponsors: Grand Rapids African American Museum and Archives and Grand Rapids Historical Commission
The Legacy of Lamberton Lake
Presenter: Don Bryant
Sponsor: Western Michigan Genealogical Society
Discovering our State with the Resources of the Library of Michigan
Presenter: Tim Gleisner
Sponsor: Library of Michigan
To learn more about these programs and the launch of the History Detectives YouTube channel visit their website at https://historydetectivesgr.org/.
https://www.ggrwhc.org/wp-content/uploads/2021/12/HD-Logo-website.png
174
402
GGRWHC
/wp-content/uploads/2017/11/logo_v4.png
GGRWHC
2022-01-07 13:05:12
2022-01-09 11:47:29
History Detectives Launching New YouTube Channel - January 22, 2022!