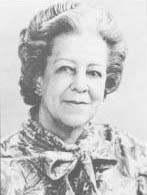 Helen Jackson Claytor
Helen J. Claytor was born and educated In Minneapolis, Minnesota. Her father was a Pullman porter, who had read law while traveling all over the country on the train. Although he consequently was admitted to law practice in South Dakota, he decided to settle his family in Minneapolis. In his travels he had learned that this city was the best place for his children to receive a good education by attending the University of Minnesota while still living at home.
Helen Claytor graduated Cum Laude and Phi Beta Kappa in 1928 with a degree in teaching. However, jobs were scarce to non-existent for black teachers, so she accepted a job with the YWCA in Trenton, NJ, and later in Kansas City. Thus, Helen Claytor began a career and life-time commitment to this organization that extended over six decades.
One of her first assignments was to conduct a nationwide study on race relations for the National Board of Directors. This assignment led to travel throughout the country, speaking and conducting workshops on this subject. Those travels brought her to Grand Rapids, MI, in 1943, at which time she met Dr. Robert Claytor. Following her marriage to Dr. Claytor, she was elected president of the Grand Rapids YWCA, the first black woman to serve in that capacity. In 1967 she was elected to the National Board of Directors of the YWCA and served as the president until 1973, when she retired. She then became an honorary member of the board. Helen Claytor also served on the World Council of the YWCA, which extended her travels all over the world.
As President of the National Board, Helen Claytor took a leading role in drafting the YWCA Purpose in 1967, which she regarded as a major accomplishment of her career. Under her leadership, all groups within the YWCA coalesced around one imperative: "The elimination of racism wherever it exists and by any means necessary." This imperative has been renewed at every convention since that time.
After the racial problems that swept the country in the late1940s, Helen Claytor was appointed to a committee for the City of Grand Rapids to study its racial problems. After months of hard work, that committee gave its report to a skeptical city commission. The facts and statistics contained in the report so startled the commission and the community, the first Human Relations Commission was formed. That commission evolved into the Office of Equal Opportunity, still an integral part of city government today.
Helen Claytor continued her activities for the YWCA, her church, and her community until her death in 2005 at the age of 98. Her life and leadership were inspiration to women of all ages and races. Grand Rapids was fortunate to have her call it her home.