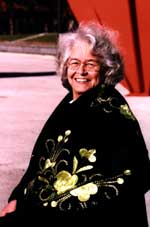 Maurilia Ortiz Blakely
Educator & Hispanic Activist
The exciting and successful Mexican Festival, which showcases Hispanic culture and customs to the community, was the brainchild of Maurilia (Molly) Blakely in 1970. "I wanted to show my children, as well as the people [in Grand Rapids], that we did have a culture, a heritage," said Molly. "And even though we spoke a different language, we were still Americans." In 1928, this Mexican American woman was born in Beeville, Texas, where the Hispanic traditions were an important part of her life. She was dismayed to learn that there were no traditional festivals held in Grand Rapids when she and her husband moved here in 1952.
By 1966 she found herself raising her five children alone, working full time in a Kroger's meat department. Feeling that the members of her family needed to be proud of their roots, Molly became active in the Hispanic community. In 1975 she became seriously ill from overwork. Under doctor's orders to rest, Molly took the opportunity to reevaluate her life. She decided to finish her education and enrolled in night school to get her high school diploma. Then in 1979, she earned her bachelor's degree in Social Work and Counseling at Grand Valley State University.  "Going back to college at 47 helped me to find myself," she explained. "Sometimes you grow up with a feeling that you should have done more, but until my family was grown, I couldn't finish my education. Going back to school not only helped me with my inner growth, but enabled me to help other people. Education is the key to everything," she emphasized.
In additional to those educational accomplishments, Molly became coordinator at the Neighborhood Education Center for the Latino Community, where she assisted students with personal and educational problems. She also helped to develop employment opportunities for young Hispanics and facilitated entrance into colleges or other training programs.  She was the creator of the Hispanic Institute, which offers adult education classes for Spanish-speaking residents. She was also an emergency shelter coordinator for the Catholic Human Development Office, working with the city's homeless and spending many weekends furthering Hispanic women's issues.
In 1990 the Latin American Services with the Leonard Ortiga Award honored Molly for her positive contribution to the Latino community. She also received many other awards, which included recognition from the Mexican Cultural committee, the Hispanic Instutue, the YWCA "Women in Changes" Award, and the Simpatica Award.
At age 87, Molly passed away in October 2015. For more information about her life, click here.