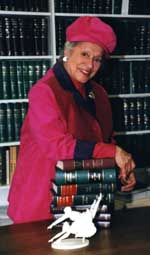 Rosemary Scott
Attorney and Civic Ballet Founder
In 1947 Rosemary Scott, one of the first women attorneys in Grand Rapids, opened her successful law practice now spanning over 50 years. She co-founded the Grand Rapids Civic Ballet in 1972. Both events have become a part of our local history.
Her dream to become a lawyer was inspired by her high school debate coach, a man who attending law school while coaching the state winning debate team. "I became an attorney because I enjoy people and I enjoy finding solutions to problems," she explained. Although valedictorian of her class, she received little financial help and had to work to pay for most of her education. She received a nomination to Phi Beta Kappa and earned her Master's degree in six months. She was the only woman in her 1946 University of Michigan Law School class and taught high school while she attended law school She became the second woman to work as a law research clerk for the Sixth Circuit U.S. Court of Appeals in Grand Rapids.
She opened her law office the next year because there were no openings for her in the local firms. Until she became established she worked the night shift at American Seating and practiced law during the day. Now she keeps four secretaries busy. She became the first woman (the only woman for 50 years) Chairman of the Junior Bar Section of the Michigan State Bar. In 1951-52 this section was the winner of the American Bar Association Award of Merit. She served as a member of the American Bar Association Junior Bar Conference, representing the Sixth Federal Judicial Circuit. She became active in the Grand Rapids Urban League, a daring move at that time, a move that cost her other memberships. Governor Swainson appointed her to the Michigan Youth Commission in 1949 by Govemor Williams and again. Governor Romney 1969-71 appointed her Chairman of the Commission. Children were a dominant interest and she became president and founder in 1969 of the Michigan Counsel on Children & Youth. During this same period she served as Chairman of the University of Michigan Alumnae Association and was honored with the University's Distinguished Service Award.
Her artistic interests led her to taking piano and ballet lessons. As there was no local ballet company, she became involved in forming the Grand Rapids Civic Ballet with Sally Seven, the artistic director. The ballet drew from local talent with professional dancers invited to perform. Rosemary served as President and Executive Secretary 1972-88. "My feeling is that we all have artistic outlets," she said. "Dance and movement is a way of expression that I enjoy seeing and creating." Rosemary Scott has become an impressive and familiar figure in her hat and gloves on lower Monroe where she first established her law firm. "I promised my mother that I would wear hat and gloves," she explained, "to be sure people took me seriously. That may appear to be eccentric at the moment – or it may be on the cutting edge of the future."