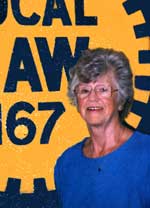 Life Dates: b. August 5, 1925, d. November 30, 2016
Full Name: Dorothy (Higgins) Newman
Birthplace: Heswall, Merseyside, England
Tags: Labor Unions, Community Activism, Oral History
Dorothy Newman is well known as a leader in the labor movement and in the Kent County Democratic Party. In her oral history interview, Newman describes her childhood as the daughter of a commercial fisherman in Parkgate, Cheshire, England. She was the eighth of eleven children and the first girl in the family. Her life was strongly influenced by her experiences during World War II, when, due to her brothers' absence, she was forced to quit school in order to help at home and in support the family. Ultimately, the war years proved to be a pivotal time in her life, since it was during the war that she met her future husband, Henry, an American serviceman stationed in England. After the war, they built a new life together in Grand Rapids and Dorothy made her mark as a long-time labor and community activist. Recognized as one of "Twelve Outstanding Women" by the Greater Grand Rapids Women's History Council, her career started in Grand Rapids at McInerney Spring and Wire in 1948, shortly after she came to the United States. Already the mother of one son, Michael, she was forced to leave McInerney when she became pregnant with her second son, Steven. After his birth, she returned to the workforce as a production worker at General Motors in 1954 and began her long association with the United Auto Workers (UAW).
Newman achieved many "firsts," including being the first woman appointed to serve on the UAW International Constitutional Committee in 1966. She was a strong and consistent advocate
for the rights of women in the UAW. She attended every UAW National Convention since 1962, ten times as elected delegate from the local and four times as a distinguished guest. "I just kept working away and winning elections," Dorothy said. "I think it was because I was a pest. I was persistent and consistent. We (the women) were doing the work, but for years never got top spots. We wanted to be treated as equals." She was chair of the Local's Women's Committee and Community Action Program Committee (CAP). Her work with the UAW Community Action Program culminated in 1978 with her election as chair of the Kent County UAW-CAP Council.
She was also active in the Democratic Party at the local, state, and national levels and served as a representative to the Democratic National Convention on three occasions. Newman received numerous awards in recognition of her work, including, among others, the YWCA Tribute Award, the Kenneth Robinson United Way Award, and the Bread and Roses Award from the University of Michigan.
During her years at GM, the Democratic Party, and the UAW, Dorothy fought not only for equal representation, but for personal leaves of absence and for more political power for women. In 1970 she won the first Kenneth Robinson Award for her work with the United Way. She won four awards from GM for her community service work with the UAW, the YWCA, and the Women's Resource Center and was honored with the 1994 Legacy Award for Women of History. In 1985 the UAW commemorated its 50th anniversary and awarded Dorothy a medal as the outstanding woman in Region 1D. In the same year, Local 167 named a conference room after her and she joined the staff of the Michigan State AFL-CIO, where she became the Director of Special Projects. In 1988 at the Women's Conference for Union Activists, she became a force in developing programs to spur people to buy union and to buy American. She was also involved in the political concerns of Social Security and Health Care. "Get active in the issues that are important to you," Dorothy advised. "Everything is different now. I wouldn't have to quit now if I got pregnant. It's all covered according to our UAW contact. I feel really good about what we did."
Related Links:
This biography is adapted from a summary of an oral history interview with Dorothy Newman. Learn more about oral histories here.
"Dorothy Newman." Grand Rapids Press, December 3, 2016. https://obits.mlive.com/us/obituaries/grandrapids/name/dorothy-newman-obituary?id=16090633.