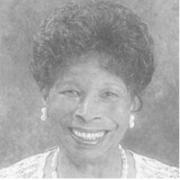 Life Dates: b. April 5, 1922, d. September 22, 2006
Full Name: Harriet Woods Hill
Birthplace: Boyne City, MI
Tags: Government Service, Oral History
Harriet Woods Hill spent 26 years as an officer of the Grand Rapids Police Department, the first African American policewoman and its first female detective.
Hill was born in Boyne City, Michigan, in 1922 and lived in Grand Haven as a child. During the Depression, her father became disabled and her mother supported the family by taking on day work and renting out rooms to chauffeurs and maids who served Grand Haven's summer tourists. As she was entering the tenth grade, Hill's family moved to Grand Rapids where she attended South High School and joined St. Philip's Episcopal Church.
After graduating from high school, Hill worked for a year and then went to Grand Rapids Junior College with the intention of becoming a nurse. She got married soon after, however, and did not complete her schooling. Hill's career with the Grand Rapids Police Department began in 1951 when she was hired as a clerk typist in its Records and Identification Bureau. In this position she faced blatant racism from her fellow employees, one in particular.: "This individual was just very mean and nasty to me. In fact, she was prevented from obtaining her step raise because of the treatment she was giving me. I used to go down to the restroom, lock the door and sit there and cry. And then I'd go back upstairs because I came there to do a job and I wasn't going to allow her to force me to quit working because she was prejudiced." Hill goes on, though, to tell about the day this person was absent from work. "One of the other women and one of the sergeants asked me if I wouldn't like to come and have coffee. Once the door was opened I never allowed it to become closed. There were several who stopped having coffee in the coffee klatch because of it, but you know you just hold your head high, demand respect and people recognize others who are prejudiced."
Then in 1955 Hill joined the ranks of the Grand Rapids Police Department as its first African American female police officer, working in the juvenile division. She had requested that she not be assigned cases involving only black children. Cases involved everything from delinquency to sexual abuse to murder. To avoid drawing attention to themselves during investigations, women officers typically wore plainclothes and drove unmarked cars, but they still toted their guns in their purses. Eventually Hill was training other women coming into the department.
In 1977, Hill was offered a position in the detective bureau, making her the police department's first woman detective in its 106-year history. "That was interesting because there were 38 men and they never had a woman working in that bureau. When I had been asked, I was somewhat hesitant and thought they were joking. I was working forgery. And it was most interesting and I liked it a lot, completely different from juvenile work." She did not experience any gender or racial discrimination while working in the detective bureau. Hill was nominated for Officer of the Year in 1978 and retired in 1981.
Looking back on her career in 1998, she did not recommend a career in criminal justice or police work for young women because of the stress. Instead, she said, she would steer them more toward probation or social work. Nevertheless, she professed great satisfaction in sometimes running into people whom she had helped when they were children and knowing she had made a difference in their lives.
Hill died of cancer on September 22, 2006. Her survivors included her husband of 63 years, Clarence ("Cokie"), her son James and his wife Shelley, her daughter Carolyn, five grandchildren, and eight great grandchildren.
Sources
This biography is adapted from a summary of a transcript of an oral history interview with Harriet Woods Hill. Learn more about Grand Rapids women's oral histories here.
This biography can also be found in the Spring 2017 GGRWHC Newsletter.
"Harriet Hill." Grand Rapids Press, September 24, 2006. https://obits.mlive.com/us/obituaries/grandrapids/name/harriet-hill-obituary?id=13785909.
"She's the Detective," The Spokesmans Review, June 6, 1977.
Weakley, Teresa. "Family shares stories behind GR's first Black woman police officer." WOODTV, March 3, 2021. https://www.woodtv.com/news/grand-rapids/family-shares-stories-behind-grs-first-black-woman-police-officer/.