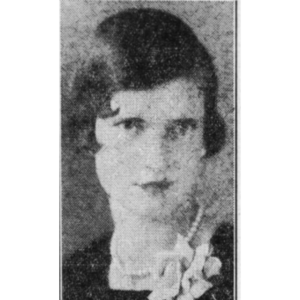 Life Dates: b. November 20, 1898, d. June 16, 1989
Full Name: Myrtle Louise Gilleo Sharpe
Birthplace: Grand Rapids, MI
Tags: Arts, Business
In the 1920s, when women architects were quite rare, Grand Rapids' Louise Gilleo was making a name for herself designing beautiful homes, in her Michigan hometown as well as further afield. In fact, several times between 1929 and 1932 her home plans were featured in the Ladies Home Journal, the nation's largest circulation magazine.
Myrtle Louise Gilleo was born on November 20, 1898. Her father, Clarence, was the head of the printing plant for the Grand Rapids Herald and her mother, Gertrude, was a homemaker managing their growing family. They lived at 333 Sunset NW in a lovely Queen Anne-style home built in 1905. The short, dead-end street on which the house stands offers a dramatic overlook to the city's downtown.
As a student at Union High School Louise was already recognized for her artistic talent. The inside cover of her senior yearbook, the Aurora, is graced with her illustration of a stylized eagle. Louise was on the staff of the 1918 yearbook, which was dedicated to "our men overseas" during World War I. Each senior was described in the yearbook by a catchy phrase. About Louise, her classmates said, "She fascinates the street with her gaiters trim and neat." She was the class historian and belonged to Senior Sorosis (likely a sorority), the Mask and Bauble (drama club), the Art Club, the Academy of Science, and the Pin Committee.
Like many female students at Union High, Gilleo registered for war work on April 27, 1918, when registrar Marion Jennings visited the school for the Woman's Committee of the Council of National Defense. Her registration card indicates that, although Louise was a full-time student, she was also a clerk at the telephone company. Louise's sisters, Flora and Winifred, claimed more traditional home skills, but she included "artist" and "draftsman" as well as "experience with metal handicrafts" as part of her skill set. Louise also said that she desired training as an "aviatrix."
After attending Kalamazoo College for two years, it appears that Gilleo was putting her claimed skills into practice. The 1920 U.S. census lists Louise as a draftsman at the Furniture Temple, and the Grand Rapids city directory lists her as an architect. Then between 1921 and 1923 she trained as a draftsman in the office of registered architect Alexander McColl, whose home designs were as highly popular then as they are now. McColl's renderings and floor plans were often featured in the Grand Rapids Herald.
In 1922, McColl began designing homes for a new Ottawa Hills development on the site of a former golf club. The earliest homes in the development were built on Iroquois and Pontiac streets by Blakeslee Brothers Builders. It's extremely likely that Louise was involved in the drafting of those plans. In 1923 Louise left her position as a draftsman at McColl's office and began working as a staff architect at Blakeslee Builders. Perhaps having worked closely with her on building projects, the Blakeslee Brothers recognized Gilleo's talent and hired her away from McColl; or perhaps she recognized that it was time for her to become an architect in her own right and a good opportunity presented itself. What is known is that Gilleo designed homes on Manhattan, Maplewood, San Jose and Locust in East Grand Rapids, as well as apartments at Grand and Fulton in the East Hills area.
The trajectory of Gilleo's Grand Rapids career changed course when she began traveling during the winter to Florida, where the Tampa Times records her attendance at social events. According to the newspaper, in 1925 Louise was apparently still working for Blakeslee Builders at the time she began designing architectural ornamentation for a Tampa cast-stone company and creating "original designs in stone for South Florida's finest homes and schools." Also around the time she left McColl's studio, the Times reports that Louise had been working for Chicago architect John Eberson, a builder of opulent movie palaces such as the Tampa Theatre which was recently restored to its former glory.
On February 2, 1929, the Times reported that Louise surprised friends by marrying Tampa native Benjamin L. Sharpe, who worked in "mercantile." Gilleo and Sharpe had been married in December in the parsonage of a Clearwater minister in a small ceremony including only family. At first they shared a bungalow with Sharpe's parents, the home that eventually became their own in what is today an historic Tampa neighborhood.
Louise did not give up her career when she married. Besides gaining nationwide attention in the Ladies Home Journal, her work was regularly featured in the Grand Rapids Herald. On Sunday April 27, 1930, it printed exterior and interior photos of a Gilleo-designed "English type" home at 900 San Jose Drive, highlighting such features as a "unique living room balcony" with a wrought iron railing and a "hand-carved fireplace."
Another was described in a 1927 edition of the Herald as an "attractive English style" house standing on the corner of Mackinaw Road and Iroquois Drive in the Ottawa Hills neighborhood. The newspaper featured a rendering of this upscale home, built by Blakeslee Builders, showing an exterior of Chicago common brick and white trim. Interior details included a center entry with a colonial staircase, a library with floor-to-ceiling bookshelves, and a modern kitchen.
In May of 1929 a Ladies Home Journal article published a two-page spread highlighting Gilleo's designs entitled "Eight Distinctive Homes." It features styles ranging from English Tudor to Colonial and from a French style to a quaint English cottage. Home sizes vary from small to "commodious," with predicted building costs between $5,000 and $8,000. Plans could be ordered directly from the magazine. Louise continued to design
homes in Grand Rapids at least through 1930 and saw more home plans published by the Ladies Home Journal in 1931 and 1932; but here the trail of Louise Gilleo's career grows cold.
Research so far suggests many threads that can still be pulled to reveal a fuller story about the intriguing life of this early woman architect. An interesting footnote to the history of Louise Gilleo is the marriage in 1919 of her brother Avery to Eleanor Alten, the eldest daughter of well-known painter Mathias Alten. The year after Louise's graduation from Union High School in 1918, Avery had returned home from World War I, honorably discharged after being wounded and cited for valor at the Battle of Juvigny in France. His and Eleanor's daughter, Anita Gilleo, remains a source of important information on her Aunt Louise.
Sources
This biography can also be found in the Summer 2018 GGRWHC Newsletter.