Women Legends Walking Tour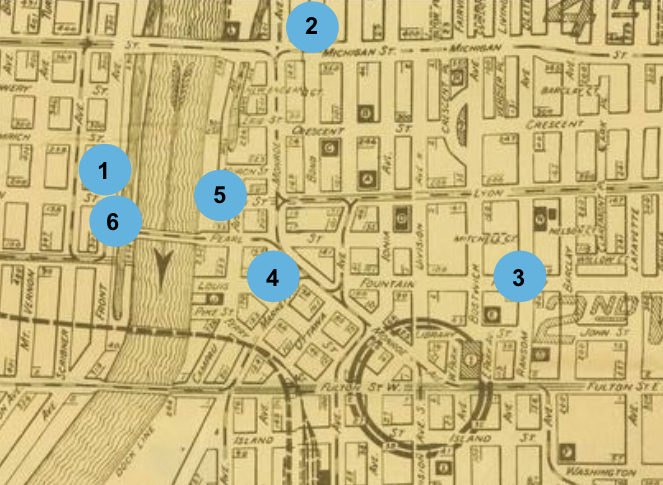 The Women Legends Walking Tour in downtown Grand Rapids is indebted primarily to the largesse of the family of Peter Secchia, businessman, philanthropist and former U.S. Ambassador to Italy. In 2008 Secchia envisioned, and has since then funded, the Community Legends project, which over time will install twenty-five memorial sculptures to raise awareness of significant figures in Grand Rapids history. Four of the six sculptures on this tour are products of the Community Legends project. The fifth was raised by community members to honor civil rights icon Rosa Parks, near the downtown park named for her; and the sixth is a more abstract representation of striking workers during the 1911 Grand Rapids Furniture Strike.
The six sculpture sites can be visited on foot or bicycle; only two, easily by car.  But you would want to park and view the sculptures from their different angles anyway. Each is a unique work of art. Note the level of detail in Anna Sutherland Bissell's jewelry, for example, or how she steps slightly upward as she enters a new phase of life after the death of her business partner husband. And one site is actually a sculptural grouping of three women. Linger with these community figures! They range from pioneering scientists, an activist seamstress, First Lady, early female CEO, and national YWCA leader to a broadly historical representation of striking workers.
Consider that, traditionally, the only female figures in public art have been allegorical or mythical figures, like blind Justice. To date there is a staggering lack of public statuary depicting historical women as opposed to historical men. A recent study claims that only 7% in the United States represent women. Because in 2019 New York City had only five statues of women, against 150 of men, the city initiated a plan to add the figures of four more women to address inequity in its public spaces. Now, in six installations, Grand Rapids has eight!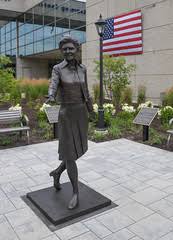 1. Betty Bloomer Ford (1918-2011)
Location: near the entrance to Gerald R. Ford Presidential Museum, 303 Pearl St. NW
Installed at 2018 Community Legends unveiling ceremony: Raised in Grand Rapids, Elizabeth Anne "Betty" Bloomer was an accomplished dancer before she married Gerald R. Ford in October 1948. Gerald Ford served as a Michigan congressman for twenty-five years before he became president of the United States in August 1974. As the nation's First Lady, Betty Ford openly discussed her personal battles and became a strong advocate for treatments for breast cancer and chemical dependencies. She also raised the nation's consciousness about women's rights and during the 1970s was an avid supporter of the ERA, the Equal Rights Amendment.  After the Fords left the White House in 1977, Betty remained a selfless leader and continued her dedication to public service and humanitarian efforts. Sculpture by J. Brett Grill. 
For more information about this statue, click here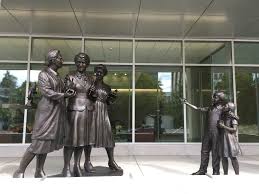 2. Adulation: The Future of Science, honoring Pearl Kendrick Sc. D. (1890-1980), Grace Eldering Sc. D. (1900-1988), and Loney Clinton Gordon (1915-1999) 
Location: on the south porch of the Michigan State University Research Center, 400 Monroe Ave NW
Installed at 2019 Community Legends unveiling ceremony: In the 1930s, bacteriologist Pearl Kendrick and Grace Eldering began researching a pertussis vaccine in the Michigan Department of Health laboratory in Grand Rapids. Using laboratory resources, supported by local and federal funding, they modified and improved existing vaccines and conducted the first successful, large-scale, controlled clinical trial of pertussis vaccine. They were also known for hiring and mentoring African Americans trained in science for their 1940s and 1950s labs; and Loney Clinton Gordon was instrumental in identifying the strain of pertussis developed into a vaccine that now has saved the lives of millions of children around the world. Sculpture by Jay Hall Carpenter.
For more information about this statue, click here
3. Helen Jackson Claytor (1907-2005)
Location: on GRCC's Juan Olivarez Student Plaza, north across from Fountain St. Church
Installed at 2014 Community Legends unveiling ceremony: Helen Jackson Claytor was an educator and civil rights activist. After serving in various roles with the national YWCA, she became in the late 1940s the first African American president of the YWCA chapter in Grand Rapids; and twenty years later, served from 1967-1973 as the first African American president of the national YWCA. The elimination of racism was a key goal during her tenure, and one of her proudest achievements came when in 1970 the organization adopted the One Imperative: 'To thrust our collective power towards the elimination of racism, wherever it exists and by any means necessary.' Coretta Scott King pronounced that Claytor "was an eloquent testament to the great things an individual can accomplish." Sculpted by Jay Hall Carpenter.
For more information about this statue, click here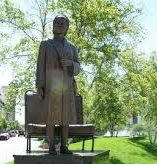 4. Rosa Parks (1913-2005)
Location: across from Rosa Parks Circle, at the intersection of Pearl Street and Monroe Ave NW
Installed in 2010 with funds raised by the Grand Rapids Community Relations Commission: Although Rosa Parks is not local to Grand Rapids, the sculpture of this civil rights activist was nevertheless the first statue erected in the city to honor a woman. In 1955, Parks famously refused to surrender her seat to a white man on a segregated bus in Alabama; and her arrest spurred the 381-day Montgomery Bus Boycott that helped launch nationwide efforts to end the segregation of public facilities. A bus seat is featured in the sculpture, but Rosa Parks is not seated on it. Near the entrance to the downtown park named in her honor in 2001, Rosa Parks stands in front of that seat in a triumphant pose. There is more to Parks than sitting in a seat. She emerged from that experience and became a quiet, but effective, leader. Sculpted by Ed Dwight.
For more information about this statue, click here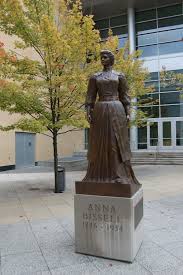 5. Anna Sutherland Bissell (1846-1934)
Location: riverside courtyard of DeVos Place Convention Center, 303 Monroe Ave NW
Installed at 2016 Community Legends unveiling ceremony: Beginning in 1871, Anna Sutherland Bissell and her husband, Melville, set out as marital business partners. She travelled to market their crockery business, and Melville ran the shop. After he patented a compact sweeping device in 1876, they worked to open a manufacturing plant in Grand Rapids in 1883 and distributed sweepers across the country. After her husband's death in 1889, Anna led the entire company herself, becoming one of the nation's first female corporate CEOs. Within ten years, she had created the largest corporation of its kind in the world and was known as a creative executive who showed concern for her employees through compensation plans and avoiding lay-offs. Anna served as president of Bissell until 1919 and chaired its board until 1934, the year she died. Devoted to helping the less fortunate, she also served on other community boards. Sculpted by Ann Hirsch.
For more information about this statue, click here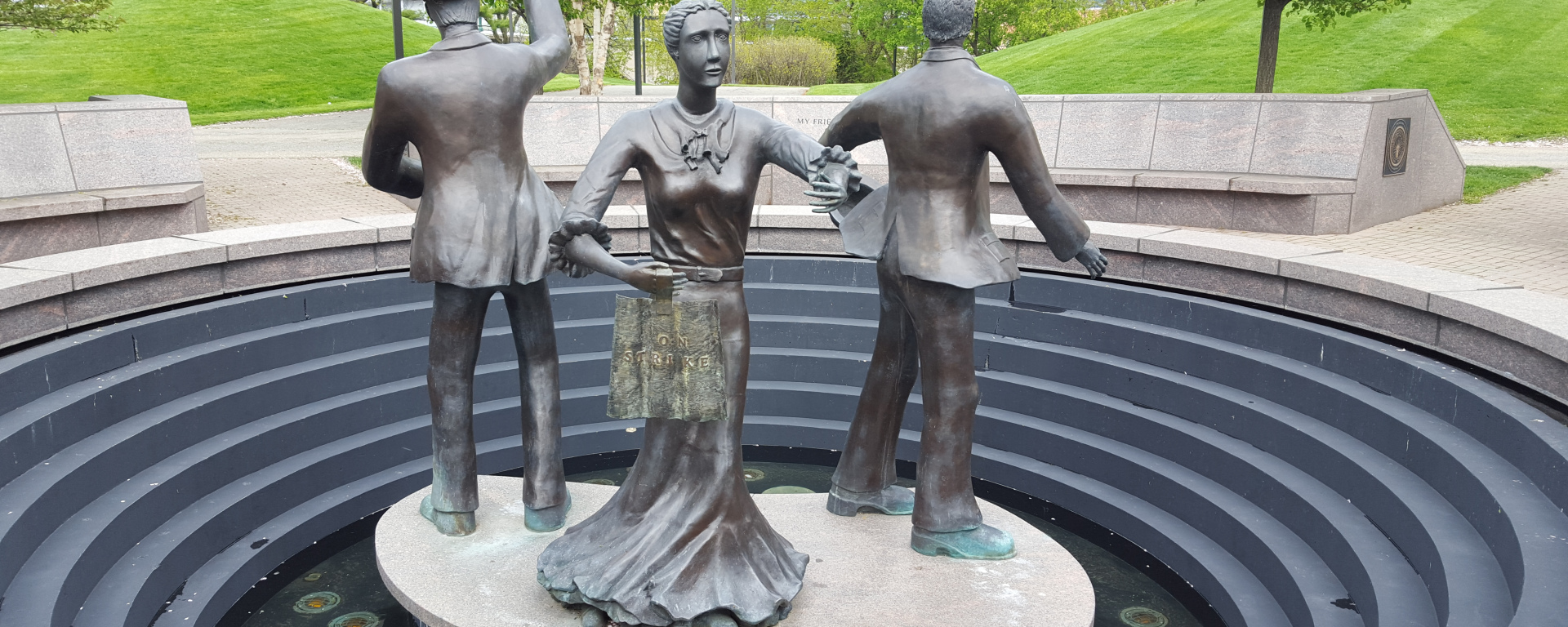 6. Spirit of Solidarity
Location: South end of Ah-Nab-Awen Park, immediately across Pearl Street from the Grand Rapids Public Museum, 220 Front Ave. NW
Installed on April 19, 2007, the 96th anniversary of the 1911 Furniture Strike in Grand Rapids & sponsored by the Labor Heritage Society of West Michigan: The Spirit of Solidarity monument commemorates the 1911 Grand Rapids Furniture Strike, when more than 6,000 workers walked out of fifty furniture factories, protesting pay and working conditions. This clash between the furniture industry and its labor force brought the city to a standstill for four months. The sculpture's three larger-than-life bronze figures, two men and one woman, are dressed in the style of the early twentieth century and stand at the center of four pathways representing the four ethnic groups involved in the strike. Cascading waterfalls represent the turmoil surrounding the event; and intimate seating spaces, created for reflection, line the walkway around the sunken pool. Grand Rapids labor historian Michael Johnston was the prime mover behind this project, culminated in 2007 by the Labor Heritage Society of West Michigan. Jeffrey Kleiman's book– Strike! How the Furniture Workers Strike of 1911 Changed Grand Rapids—was published in 2006. Figures carved and cast by Roberto Chenlo.
For more information about the furniture strike,
click here