On Wednesday, October 14th, 7:00 pm, join Michigan Capitol Historian Valerie Marvin for "A Woman's Place Is Under the Dome: Michigan's Capitol and the Woman's Suffrage Movement"! Join this program to relive important suffrage moments under Michigan's dome, where you will also find Grand Rapids women lobbying and finally, in 1921, sitting in the state senate. The fight for woman's suffrage began in Michigan in 1846, when woman's rights advocate Ernestine Rose gave two speeches in Michigan's first Capitol. Click here for a quick Wiki introduction to the little-heralded-but-marvelous Rose.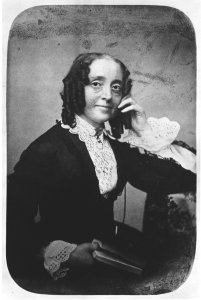 This virtual program is sponsored by the History Hounds series of the Historical Society of Michigan for a nominal charge. For details and to register, please click here.
If you are a member of the GGRWHC, you can attend free. (Otherwise, it is $7.) To get the organizational member number of the Greater Grand Rapids Women's History Council, please email us or call: [email protected] or (616) 574-7307.