Here Lies a Suffragist: Celebrate the Centennial Socially but Safely!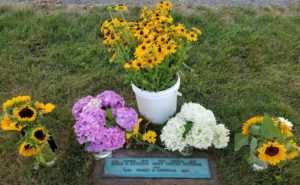 Our August 26th grave-decorating project, Here Lies a Suffragist, https://www.ggrwhc.org/suffrage-grand-rapids/ will substitute for our original in-person celebration. Please help us honor representative local suffragists on the centennial date of the Nineteenth Amendment, Wednesday, August 26th, 2020!
Here's the plan! First, read through our Here Lies a Suffragist tour guides, and choose one woman (or more? or all!) to honor on Equality Day, August 26th. Make a graveside visit on the 26th, perhaps with flowers—even a single stem. The sites will be easily found—look for the purple balloons and "Votes for Women" badges.
As a record of your visit, please take a photo—of the decorated gravesite certainly; but including you, too, if you are willing. Please post it in the comments section of our Facebook post honoring the day! (If you do not use Facebook, please send it to our email address– [email protected]) Don't worry about grave clean up—we will see to it!