Garfield Park Cemetery
The following cemetery description is taken from Thomas R. Dilley's 2014 book, The Art of Memory: Historic Cemeteries of Grand Rapids, Michigan. For much more about the later development of sections of the cemetery, please refer to his book.
In 1902, a group of men prominent in the Dutch community opened Garfield Park Cemetery. [It was] designed and platted in the park cemetery style, though with graves less ostentations than many park cemeteries of the day. From the outset, the cemetery was marketed to 'all classes of people,' perhaps a softly critical reference to the upscale appearance of Oak Hill and Greenwood. . . . [Garfield Park Cemetery] takes its name from the land's previous owners . . . who loved the deeply wooded land.
Garfield Park Cemetery is at 2222 Kalamazoo Avenue SE, north of Alger Street and just after some railroad tracks.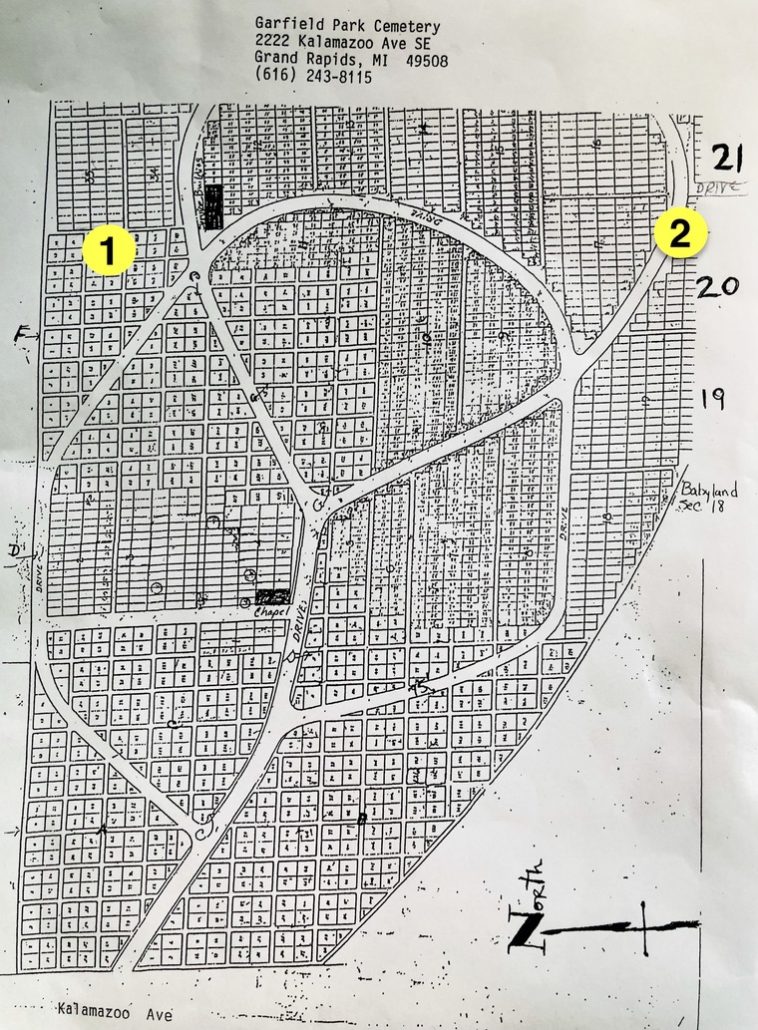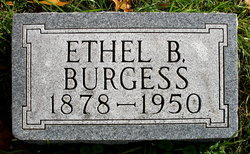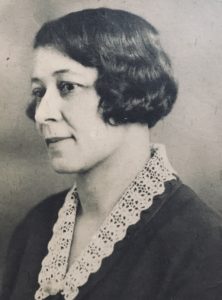 1. Ethel Beverly Burgess (Section F, Lot South 72) 1878-1950
The GGRWHC met Ethel Beverly Burgess because her older sister Hattie has been honored as the first African American teacher in the 1899 Grand Rapids Public Schools. But Hattie died young, and Ethel led a long life deeply involved in her community. In 1900 we find Ethel Beverly training at Lucretia Willard Treat's kindergarten school and think that she taught in a private kindergarten for two or three years before her marriage. Then in 1911 "Mrs. Theodore Burgess" shows up as instrumental in the founding of St. Philip's Episcopal Church for African American worshippers and, as an officer of the Women's Guild, a "power behind the throne." By May 1918, Burgess had seriously engaged World War I work on the home front with the Red Cross and as a community chairwoman in food conservation and wartime gardening. By 1927, Burgess was heading a committee on the Interracial Council charged with addressing the "recreational needs of young colored people" unwelcome in organizations like the YMCA. From this position she was instrumental in establishing the Grand Rapids Urban League and convincing the Grand Rapids Welfare Union to support the new Negro Welfare Guild. And along the way, Burgess found herself toe-to-toe arguing approaches with NAACP leaders. Although she is little known—so far—Ethel Burgess played an outsized role in early programs benefitting African Americans and developing invested citizens.
To find Ethel Beverly Burgess's gravesite, turn east off of Kalamazoo into Garfield Park Cemetery and drive straight in until you pass a little chapel on your left; then take the left fork up the hill and park next to a utility building. To find the Ethel Burgess gravestone, walk straight north (left on the map) from a tree just east of the power pole.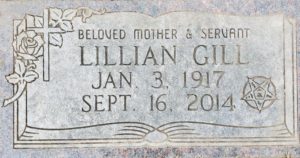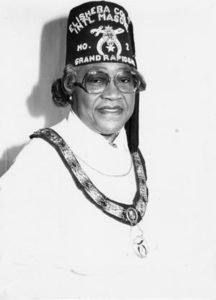 2. Lillian Buress Gill (Section 20, Lot 79) 1917 – 2014
In 1944, when she became a young widow of 27 years with three children, Lillian Gill used an entrepreneurial spirit to make a life in her adopted city, Grand Rapids. In 1946, she started classes to learn about life insurance and underwriting–for 13 years. During this same period in the 1950s, she became a pioneer saleswoman for the early Amway Corporation–actually their first Black sales agent; she began her life-long history with the Order of the Eastern Star, rising to Grand Matron on the state and national levels; and she began volunteering with the Urban League and NAACP, serving the latter three times as vice president. Finally in 1959 Gill began a career selling life insurance, and in 1982 she became the first African American woman in the state to retire from the field. In civic life, Gill ran as a delegate to Michigan's Constitutional Convention in 1961. In her religious life, she participated far beyond the local and served as president of the District of Michigan Sunday School Congress for 32 years to help parents of children who had dropped out of school. Named a Grand Rapids Giant in 1986, Lillian Gill even spent her leisure time with purpose. She was one of two women to integrate Grand Rapids Indian Trails Golf Course—and she wrote occasional poetry!
To find Lillian Gill's gravesite, turn east off of Kalamazoo into Garfield Park Cemetery. Drive straight in and then make two right turns up the hill. Park when you see on your right a signpost for Section 20. To find the Lillian Gill grave marker, walk four rows east (in the direction of the road) and turn right (or south) toward a tree on the cemetery boundary.