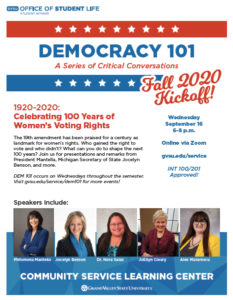 *Online via Zoom
The 19th amendment has been praised for a century as a landmark for women's rights. Who gained the right to vote and who didn't? What can you do to shape the next 100 years? Join us for presentations and remarks from President Mantella, Michigan Secretary of State Jocelyn Benson, and more.
DEM 101 occurs on Wednesdays throughout the semester.
Visit gvsu.edu/service/dem101 for more events!