Reading into Suffrage History
Virtual Book Discussion
Wednesday, September 16th, 7:00 – 8:30 pm
 The Woman's Hour by Elaine Weiss
Free & open to the public
Co-sponsored by the Grand Rapids Public Library
& the Greater Grand Rapids Women's History Council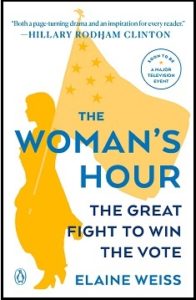 The Woman's Hour is the inspiring story of activists winning their own freedom in one of the last campaigns forged in the shadow of the Civil War and the beginning of the great twentieth-century battles for civil rights. It features summer in Tennessee one hundred years ago. And Elaine Weiss will join us on September 16th to discuss her groundbreaking book featuring the nail-biting climax of the 72-year-fight to ensure all citizens the right to vote.
Tennessee ratified the 19th Amendment to the U.S. Constitution on August 18th, and on the 26th it became the law of the land. We met Weiss when she visited Grand Rapids in 2018 to talk about The Woman's Hour, and you may have seen her recently in 2020 centennial documentaries–The Vote and Carrie Chapman Catt on PBS, and more. We can ask her about progress on the mini-series to be based on this book! It includes Weiss's report on an extraordinary moment in May 2020 when the voice of the daughter of a slave was heard inside the house chamber of the Tennessee Capitol. Scroll down to meet Juno Frankie Pierce! More here.
Prior to the shut-down, we had planned to follow our big August 26th celebration with opportunities to talk about books on suffrage history. Now the partnering groups are taking it virtual! Colleen Alles will represent the Grand Rapids Public Library, joined by Ruth Stevens for the GGRWHC. They will sketch out questions to start, but will try to keep the structure loose and also link content to the local history of Grand Rapids' own suffragists.
Please join us even if you couldn't finish the books. You will be inspired to keep reading! Anyone interested is welcome, but the virtual Zoom discussion will require an RSVP through EventBrite.
Find your own books or check one out from the Grand Rapids Public Library! 
As soon as possible, use this GRPL link to place a hold. You might need to wait for a book to become available. And when you place a book on hold, it will be available for pickup at GRPL through GRPL to Go