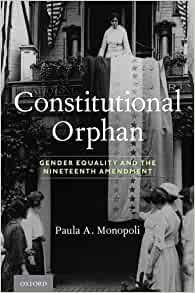 *You can reserve for this event until Sept. 24th at 7:00 pm.  
The ratification of the Nineteenth Amendment in August 1920 represented a significant movement in American history. It promised women in our republic change in their political, civil, and social statuses. What followed was a decade of dispute among women's movements, emerging from it a thin conception of the Nineteenth's constitutional meaning as a nondiscrimination rule in voting. Why did this thin conception prevail over a broader one that included equal citizenship and gender equality? Moreover, what is the lasting role of the Nineteenth in the Constitution today?
In celebrating Constitution Day and the centennial of the Nineteenth Amendment, the Hauenstein Center welcomes Paula Monopoli, the Sol and Carlyn Hubert Professor of Law and founding director of the Women, Leadership, & Equality Program at Maryland Carey. In her new release, Constitutional Orphan: Gender Equality and the Nineteenth Amendment, Paula explores the roles of suffragists in the constitutional development of the Nineteenth Amendment. Drawing on historical sources, case analysis, and legal scholarship, Paula will offer broader ways in which the Nineteenth could be used today.