Michigan History Conference
Historical Society of Michigan
Friday-Saturday, October 2nd & 3rd, 2020
Conquering the Cough: Grand Rapids Women Beating Disease
Julie Hoogland, Greater Grand Rapids Women's History Council
Sue Thoms, Spectrum Health Beat
1:00 pm on Saturday, October 3rd
Whooping cough was a killer disease fought during the 1930s and 1940s by innovative public health scientists, women on a shoestring budget, who pioneered unorthodox field studies and inspired a creative community collaboration in Grand Rapids. Pearl Kendrick and Grace Eldering ran one of the few U.S. public health laboratories in the nation dedicated to vaccine development, and their history in the development of controlled clinical trials is important. But, until recently, they have been left out of the standard histories of methodology and practice.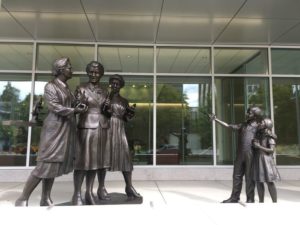 In September 2019, the Community Legends project unveiled a sculptural grouping of Kendrick, Eldering, and lab assistant Loney Clinton Gordon on the south porch of the Michigan State University Research Center, 400 Monroe Ave NW. This righting of historical amnesia with bronze public statuary honors one forgotten story of women, race, and vaccine development.
Forgotten histories and lessons will be revealed—that one creative solution can lead to another. The creation of the DPT vaccination—can shine a light on pressing social issues: pandemic, vaccines, race, and gender.
To register for this online conference.
Download entire conference schedule.